Pool Safety
Are you planning to have a pool when you come to join us in Spain, swim in the Med or picnic at one of the beautiful Spanish lakes? Water is essential to life but water also, all too often, takes life. Between 60 and 80 under-fives drown each year in Spain and so great attention must be paid to Pool and Water Safety. The best protection is always sober adult supervision but it's always best to plan ahead to prevent accidents
Alhaurin el Grande, Málaga resident Pools Expert Ken Walker has written and published an Ebook, 'The Pool Safety Bible', (22,000 words plus images) covering about 50 different aspects of Pool and Water Safety (who knew there were that many ways a pool could be dangerous?). That in itself is good news but the BEST NEWS is that he is giving it away FREE to all who would like it.
Hospital ERs (Casualty) are inundated with pool-related accident victims. Injuries include poisoning, electrocution, fractures, chemical burns, slips, paralysis and permanent brain damage, as well as the huge number of tragic drowning accidents. Thousands of other bathers become infected due to inadequate or maladjusted sanitation systems. Many more are affected by toxic chemicals from dangerous storage, transport, handling and use of pool chemicals. Verrucas, E Coli, Legionnaires Disease, bronchial infections and a whole lot more can be caught from water.
People get into difficulties at the beach and in lakes, too. People even drown in the bath. If no-one knows how to help them they are less likely to survive the incident. Plan ahead and protect yourself and family.
Click here to get your FREE COPY of The Pool Safety Bible
Ken and his wife, Louise, ran 2 Pool businesses in the Málaga area for 12 years and now Ken wants to share his Pool Safety knowledge. He's trying to do something about these horrendous accident statistics by gifting The Pool Safety Bible to as many people as want it. I'll say that again in case you missed it: –
He is offering 'The Pool Safety Bible' FREE to all who would like to own it as an Ebook.
It would be rude not to download a copy, really.
Visit his website to download your free copy – for laptops, PCS, tablets, phones, Kindle, EpubReaders, etc. If you'd like a copy for your Kindle you'll have to pay Amazons minimum price of around 86 Euro Cents.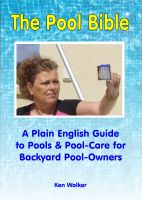 'The Pool Safety Bible' Ebook is extracted from 'The Pool Bible' by the same author. The Pool Bible is a plain-English Guide to Pools – and everything to do with them. Ken covers just about every aspect of pools, from choosing what type, size, finish, location, etc., it also covers filtration, chemicals, pool safety, lighting, heating, pool-covers, alternative sanitisers, pool accessories and a whole lot more.
There are clear instructions for carrying out the most basic task around a pool to some of the most complicated. This second title is not free; but it might as well be – in fact it's even better than free. The author personally promises a full refund "If the information in The Pool Bible does not save the pool-owner at least ten times the purchase price in the first year."!
That's a pretty confident statement and, having read the Ebook, I can say it's well justified. I learned how to save a lot on pool running costs and even how to do the major jobs myself when the need arises. I wish I'd known about The Pool Bible before, but it was only published on 24 May 2013 so it's not surprising that I didn't!
Click here to download The Pool Bible for around €7.95 (U$9.99 + tax)
Amazon Kindle version available here.